Vanimann Sandstorm
Extra large tanks – Labor saving Easy Fill sand tanks hold up to 4 pounds of media
Exclusive non-clogging flow design – internal automatic air/media purging system
Blast proof resin cabinet is maintenance free
Includes 1 Precision Tungsten Carbide Tip plus 1 Crystal Embedded Tip
Foot pedal control
Adjustable Air Pressure
Two handpieces
3 Year Warranty
A high quality and economical blasting system for moderate to heavy production usage. Low maintenance media flow system virtually eliminates wasteful downtime and lowers maintenance costs.
On/off and tank selector controls located inside the cabinet
Large, well lit work area
Handles all types of blasting media from 60 to 360 grit (25-250 micron)
Labor saving Easy Fill tanks hold up to 4 pounds of media
Tungsten carbide precision tips and Sapphire crystal tips
No metal wear points from tank to nozzle providing a low cost of ownership
1 Year Warranty
Wassermann Puna
Range of application:
It can be used with all common blasting materials and grain sizes. The blasting material flow is controlled by a foot pedal. In addition to its ergonomic handpieces, the specialist also impresses thanks to its durable blasting hoses and low consumption of blasting material.
Major features at a glance:
Extra compact fine blasting unit for daily use at laboratories even in the smallest space
Precise working pressure of 0.8–6 bar with pressure gauge control
Genuine Wassermann air mix system: Cost savings thanks to noticeable low consumption of blasting material
Comfortably to handle with ergonomically shaped handpieces
Easy foot-controlled operation
Special particularly durable hoses
High hygiene standard because of changeable sleeves
Convenient colour coding system
Easy choise of the desired blasting material by using the selection switch for colour circuit settings
Specially coated safety screen for ideal visibility
Optimum workspace illumination, protected LED lamp
Blasting material tanks made of metal, high quality construction
Designed for long durability
Simple cleaning due to stay-clean surfaces: High quality stainless steel and robust plastic powder coating
Air inlet membrane: If needed cut in the rubber vertically and horizontally to achieve an optimum exhaust air stream into the vent of the connected suction unit
With plug socket (power consumption max. 8 A), e.g. for a suction unit
Connection option for a suction unit: Extractor nozzle Ø 75 mm exterior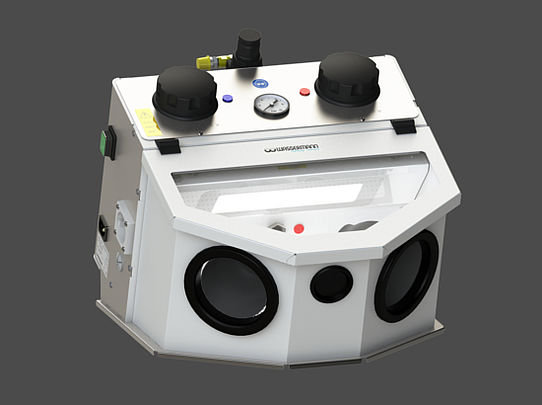 I am text block. Click edit button to change this text.
DOWNLOAD BROCHURE