Wassermann Automat Wapo-Ex
The Wapo-Ex from Wassermann is an all-in-one answer to your boil out and polymerisation units. What is thereby so attractive about the Wapo-Ex is in particular its efficiency. Thanks to separate chambers it is possible to use this table unit for parallel scalding and hardening off – timed down to the exact minute and/or degree. The sophisticated multifunction display enables a variety of functions to be carried out both in applications and in reproducible work sequences by means of its simple-to-use programming.
Major features at a glance:
combined table unit for scalding and polymerisation; simultaneous applications possible
flexible and informative multi-function display with clock timer settings accurate to the minute and to a specific degree
capacity: 4 flask halves for scalding, 6 flasks for polymerisation
reproducible work sequences via programmable scalding sequences and a standard programme
integrated adjustable showerhead for manual scalding
energy-saving thermo-insulation
casing made of stainless steel, easy maintenance
optical and acoustic low-water display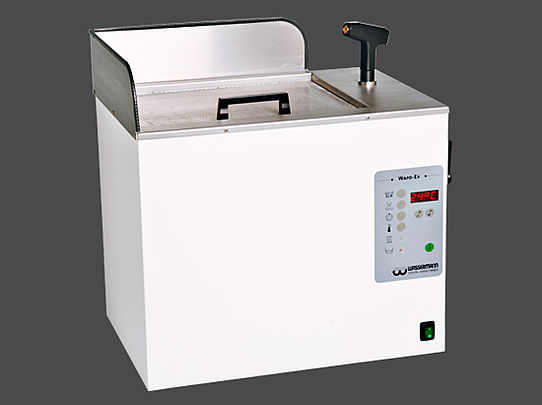 Harnish+Rieth D-AB wax extraction unit
The D-AB 240 reflects the newest findings and requirements in the dental laboratory.
> The exclusive use of proven and reliable components ensures trouble-free and rational operation.
> The housing of the D-AB 240 is made completely from acid-resistant and non-corrosive sheet steel.
> The instrument requires little maintenance and is designed to be very user-friendly.
> It can contain up to 6 cuvette baskets made of special chemo- and thermoresistant plastic.
> The cuvette halves are subjected to optimal spraying treatment from six highly effective nozzles.
> The powerful 2,300 watt heating quickly heats the 14 litre water load to extraction temperature.
> The central component is the powerful and rugged industry immersion pump made from bronze.
> The spraying pipe can be easily removed for cleaning.
DOWNLOAD BROCHURE