MT3Wet trimmer
The MT3 wet trimmer is impressive due to its exceptionally powerful motor. With the MT3 Renfert provides high-performance trimming at a low price.
Advantages
Quick change of the trimmer table angle using the practical tipping mechanism (90°/ 98°).
Safety: when the front door is opened a safety switch stops the motor and water.
Uniform coverage by the optimally positioned spray tube prevents clogging of the trimmer disc.
Details
A 10° inclination of the unit provides an optimum view of the model.
Easy guidance of the plaster model with the aid of slotted angle lines on the trimmer table.
Wassermann Trimmer HSS-99
The power pack for all occasions: Powerful 1200 Watt motor suitable for the hardest plasters. Its especially generous disc and maximised working section also allow large models to be trimmed.
Range of application:
Powerful, innovative and state of the art – the HSS-99 stands for high-end technology and versatile, efficient usage and was specifically designed for the application in the orthodontic field.  The top model from the Wassermann plaster trimmer range is the result of years of experience and development based on extensive discussions between the lab and users. The result: Perfection down to the last detail.
Major features at a glance:
fully diamond-impregnated grinding disc for silky smooth and flat model surfaces
high grinding speed of 3000 min-1
extremely powerful, maintenance-free 1200 Watt motor for high efficiency, splash-protected as per IP 54
optimal water control using ball valve and solenoid valve
extra-large work section of 12.5 x 16 cm
powerful disc and interior rinsing
practical details such as stainless steel tray table and portable outlet connection
expandable by disc equipment and/or adjustable light for 3 D trimming – ideal for orthodontics
the grinding attachment KMS can be delivered also on swiss- and EOS-version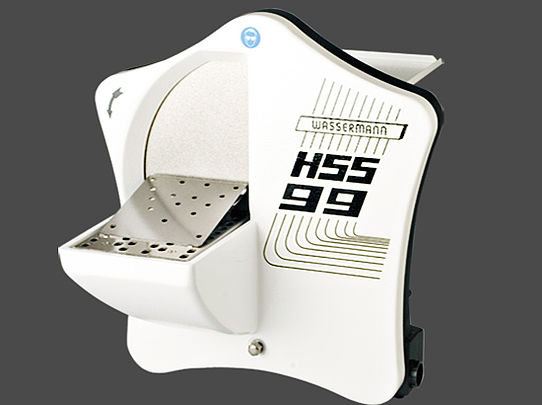 Harnisch+Rieth D-BS 320 F belt grinding unit
The DB-S 320 F belt grinding unit is particularly designed for the drygrinding ofdental models.
The optimally positioned belt and the well-placed brush roller keep the grinding belt permanently clean. Replacing the grinding belt is quick and simple.
The special grinding belt guarantees perfectly even, smooth and straight grinding.
The positioning table can be continuously adjusted by scale.
The integrated high-performance extraction blower system is supplied with an external highly effective filter system.
The large-area filter ensures completely dust-free and pleasant working.
Once the maximum filling quantity (approx. 20kg) is reached, the belt grinding unit switches off automatically.
The belt grinding unit is also available without integrated
DOWNLOAD BROCHURE